THE ELSEN DRAWINGS:
Every Sculpture Pictured in Albert E. Elsen's
Origins of Modern Sculpture: Pioneers and Premises
(New York: George Braziller, Inc., 1974)
By Laura Davis
The Elsen Drawings document every sculpture pictured in Albert E. Elsen's Origins of Modern Sculpture: Pioneers and Premises (New York: George Braziller, Inc., 1974). These drawings represent one in a series of attempts by Laura Davis to grapple with the history of sculpture and her place within it by drawing through significant art historical books about sculpture.
This double-sided poster reproduces two original graphite drawings (42.5″ x 57″). The poster is enclosed by a removable belly band printed with the following quote:
"I started drawing from the Elsen book after my friend told me that this was the book that 'taught her about sculpture.' I always felt outside the mainstream history of sculpture, as a female artist with a background in craft and a strong interest in the decorative arts. Drawing from the book was a way for me to claim the history as my own and to take a really close look at it. The only rule was to draw the entire book, and to be methodical about it: the first drawings I did are from the first pages of the book, and the last drawings–the ones on top–are from the last pages. As the images piled up, the newer stuff naturally started obscuring the older stuff. I'd find myself erasing parts of images and favoring others. I was making the history mine by filtering it through myself and back out. I was creating this new thing from this old thing, which is kind of what I do."   —Laura Davis

LAURA DAVIS (b. 1971, Holland, Michigan) is a Chicago-based artist working in sculpture, drawing and installation. Her work examines the intersection of craft, design and art by using display structures to conflate notions of value and context. Davis holds a MFA from the University of Chicago and a BFA from the Cleveland Institute of Art. She teaches in the Department of Contemporary Practices at the School of the Art Institute of Chicago.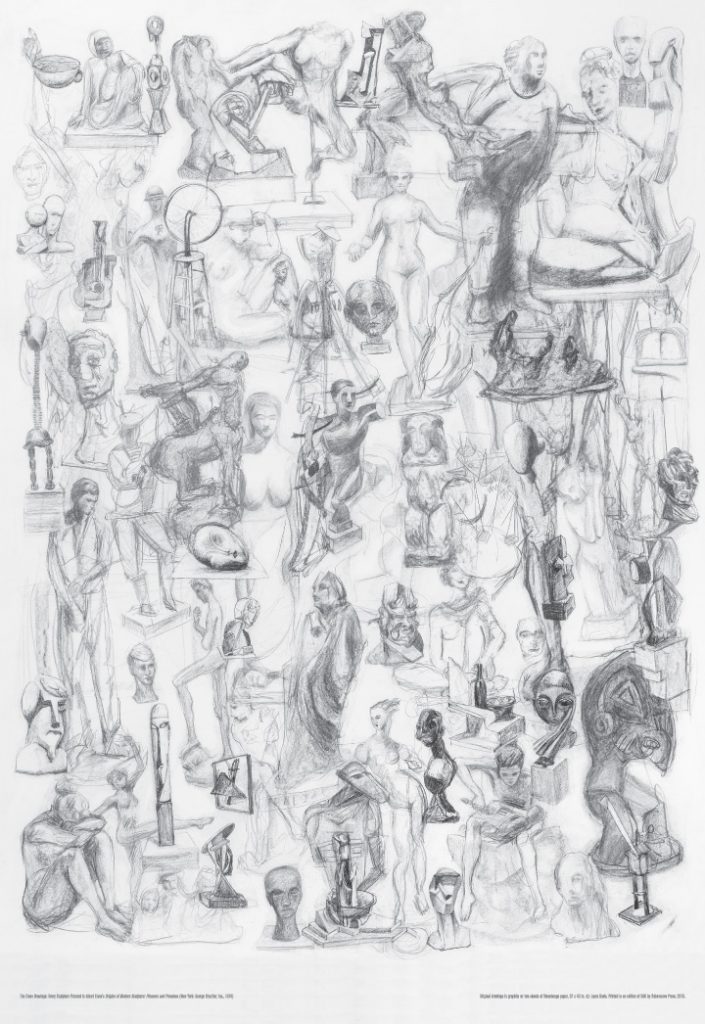 Side 1